Curating exhibition is another thing I love. To envision something, make it appear in real life, and reach a lot of people is a beautiful thing. Here are some of the exhibitions I have been involved in, as producer, curator and/or copy.
---
Seriematriarkatet

Title: The Comics Matriarchy/Swedish Comics Now
Venues: The Swedish Embassy in Berlin, Germany (April 11–June 19/2019), Rum för serier, Malmö, Sweden (October 25/2019–February 1/2020), Ystads stadsbibliotek, Sweden (March 15–April 4/2021) & Luleå stadsbibliotek, Sweden (April 12–May 2/2021)

Official description:
The Swedish comics industry is virtually exploding with talent, creativity and the joy of storytelling. More graphic novels are being published than ever before, and the book format has driven the development over the last decades. In these books we can experience everything from sli
ce-of-life stories and sharp social satire to slap-your-knees humor and epic fantasy. There is something for everyone!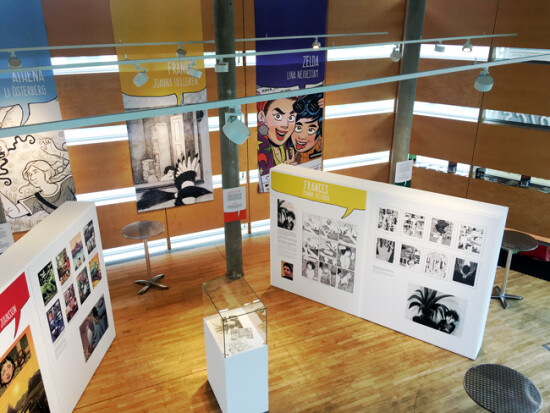 A characteristic feature in contemporary Swedish comics is the widespread presence of female artists and characters. In fact, female comics artists have had the greatest commercial successes in recent time, both in Sweden and abroad. This has attracted a whole new audience, as readers now can take part of a wider range of captivating stories and artistic expressions in the comics format.
In this exhibition we get to know some of the female characters from the most recent Swedish graphic novels. For example, we will meet the outspoken thirty-something Zelda, created by Lina Neidestam. Zelda dreams of saving the world and crushing the patriarchy. Or Whitney Houston as a comics character in Liv Strömquist's books – which combine tabloid gossip with psychology and sociological theory. Or the artist Daria Bogdanska's alter ego – who encounters unfair working conditions as an immigrant working in the restaurant business in Sweden.
The participating artists are Bitte Andersson, Natalia Batista, Sara Bergmark Elfgren, Daria Bogdanska, Karin Gafvelin, Joanna Hellgren, Karl Johnsson, Lina Neidestam, Liv Strömquist and Li Österberg. Some of these artists have already been published in English, and the others might very well be in the near future.

Comment: I wrote the copy for this exhibition, which was a fun assignment, as it meant that I had to sit down think through how to describe the art of each participating artists.
---
Serier & film – från Kapten Grogg till Alena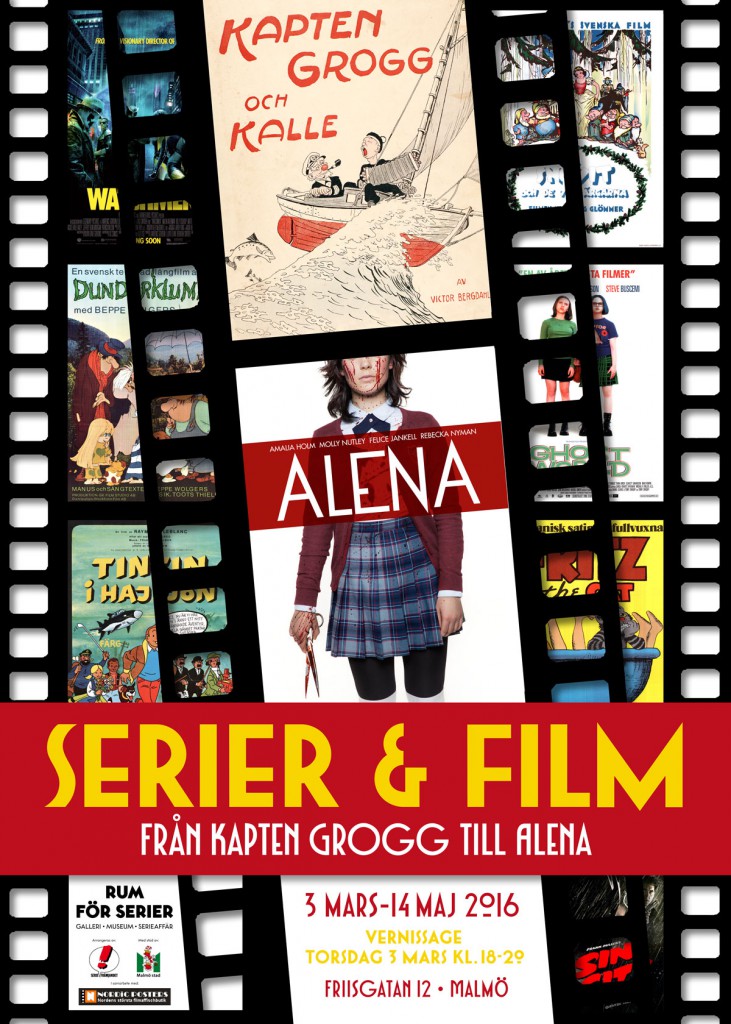 Title: Comics & Films – from Kapten Grogg to Alena
Venue: Rum för serier, Malmö, Sweden (March 3–May 14,  2016)
Official description: The two visual art forms of comics and movies always seem to inspire each other. At the end of the 1800s, the earliest days of films, British and American comics like Alley Sloper and The Katzenjammer Kids were made into some of the very first movies. Since then the inspiration has flowed back and forth. Films have been inspired by narrative form of comics, and vice versa, there have been films based on comics and comics-based films – in a creative exchange that has lasted for over a hundred years.
Now, in the 21st century, it is obvious that comics inspire filmmakers at an accelerating pace. The superhero genre has exploded onto the big screen as computer animation has made it possible to recreate on the big screen that which comics artists always have been ablate do, i.e. to have superhuman qualities seem possible. But today's film industry is also looking towards comics for new, fresh ideas in a trend that is about much more than just superheroes.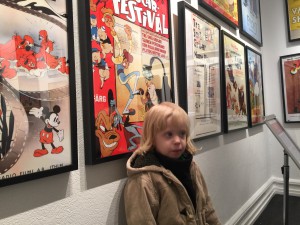 In this exhibition, movie posters from films linked in different ways to comics are showcased. Featured are movies that are based on comics, inspired by comics and stimulated the series – from Kapten Grogg to Alena.
Comment: A fun exhibition to curate, based on a private collection of comics related Swedish movie posters. The texts that I wrote to accompany the different parts of the exhibition ended up as an article in Bild & Bubbla, along with reproductions of many of the posters featured.
---
Från Ankeborg till Malmö – serier av Don Rosa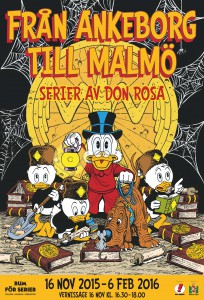 Title: From Duckburg to Malmö – comics by Don Rosa
Venue: Rum för serier, Malmö, Sweden (November 16, 2015­–Janaury 6, 2016)
Official description: Don Rosa is one of the most beloved Disney comics artists ever. Rosa lives in Louisville, USA and visited Malmo to meet his fans and talk about comics from his long career. The works in the exhibition consisted among other things reproduction of the whole of the classic Guardian of the Lost Library, original art etc.
Comment: I've known Don for years and we've been on stage countless times all over the world. Now I finally got the possibility to host him in my own home town, which was really nice. And the turnout was, of course, exceptional.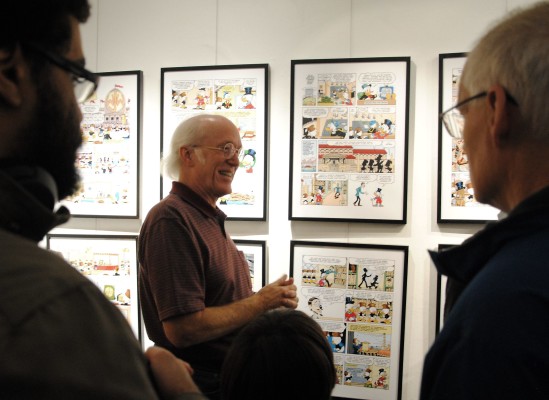 ---
Sveriges seriehistoria

Title: Swedish Comics History
Venues: Möllegården kultur, Åkarp, Sweden (March 19 to May 11 , 2016)
– Stadshusgalleriet, Laholm, Sweden (Febr. 8–27, 2016)
– The Municipal Library of Malmö, Sweden (Oct. 25 to Nov. 17, 2013)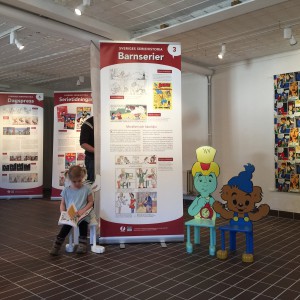 Official description: The comics history of Sweden spans centuries and range from simple jokes to intricate graphic novels. For the first time, you can now experience the whole exciting comics history of Sweden in one exhibition – from the artistic experiments of the 1800s to the golden era of Swedish comics in the early 21st century.
Comment: This exhibition was based directly on my book Swedish Comics History and has been travelling around Sweden continuously since the grand opening in 2013, very probably making it the exhibition that has reached the biggest audience of all that I have curated. Oh, and the official image above was drawn by my wife, Hanna Strömberg.
---
Life is not for Amateurs – August Strindberg interpreted by Swedish Comics Artists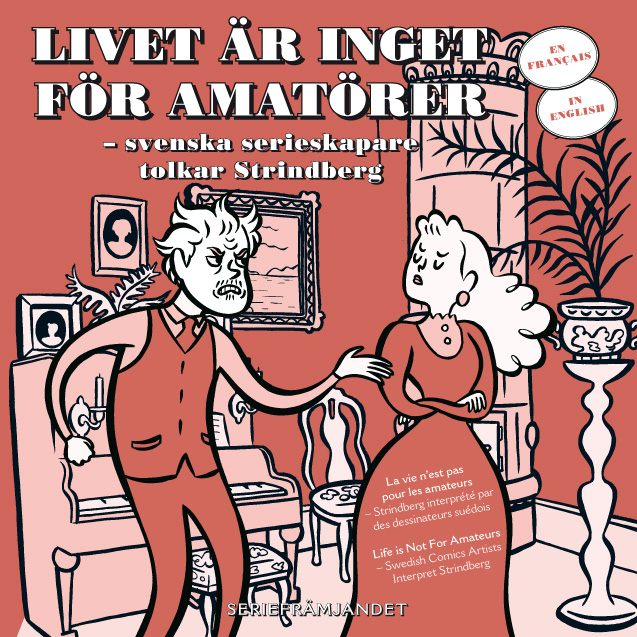 Title: Life is not for Amateurs – August Strindberg interpreted by Swedish Comics Artists
Venues: Vallentuna Kulturhus, Sweden, Febr. 25 to March 28/2013
– Tidö serie- och leksaksmuseum, Sweden, July 15 to Aug. 15/2012
– Laholms Leksamasmuseum, Sweden, June 1–30/2013
– Erlangen, Germany, May 22 to June 26/2012
– Hallunda Konsthall, Sweden, Apr. 23 to May 12/2012
– Swedish Institute, Paris, France, Febr. 7 to Apr. 15/2012
– Festival international de la bande dessinée Angouleme, France, Jan. 26–29/2012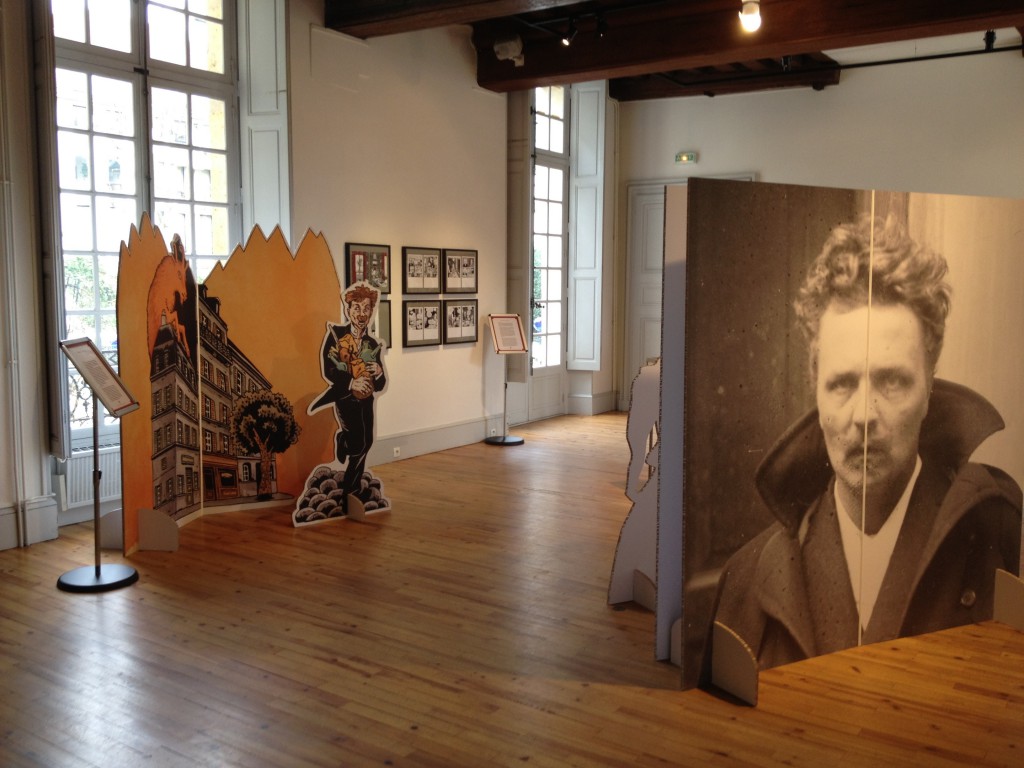 Official description: The Swedish Comics Association proudly presents a major exhibition about the author August Strindberg, seen through the eyes and sharp pencils of a number of Swedish comics artists. The exhibition consists of large panoramas, created by some of today's most exciting Swedish comics artists, as well as originals from comics about Strindberg and his work. The exhibition debuts at Festival International de la Bande Dessinée Angouleme, France – Europe's biggest comics festival, and is then slated to go on to the Swedish Institute in Paris.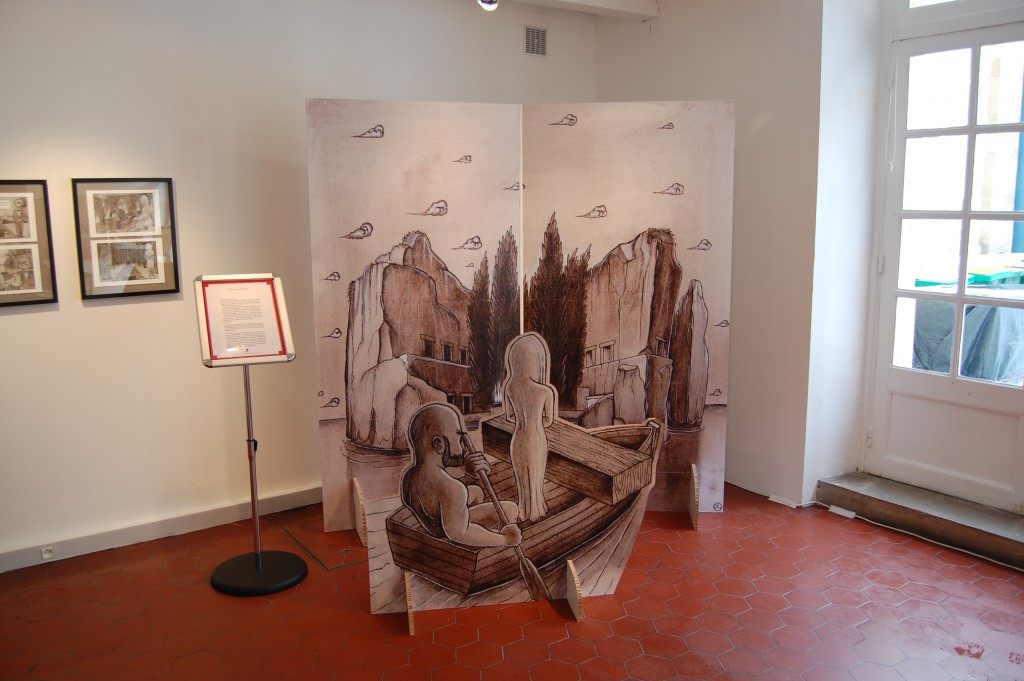 Strindberg is seemingly everywhere. You meet him in his novels, dramas and art – which were always more or less autobiographical, in his posthumous letter, and not least as a growing myth.
Strindberg lived an active, almost manic life and often burned the candle at both ends. He was born in Stockholm in 1849, and his breakthrough came early with the acclaimed novel The Red Room, about nightlife and hardships for the main character in Stockholm's inner circles. Most of his working life he lived in self-imposed exile, mostly in France but also in Switzerland, Germany and Denmark. He was charged for writing the short story collection "Married"; engaged in both painting and chemical experiments besides his writing; Hailed for his novels and dramas and became a figurehead for the myth of the male, pompous writer, and wrote texts that gave him the name "kvinnohataren" (the woman hater). Whatever he touched was contested, debated and interpreted in diametrically different ways – an interpretation process that goes on with undiminished fervor today.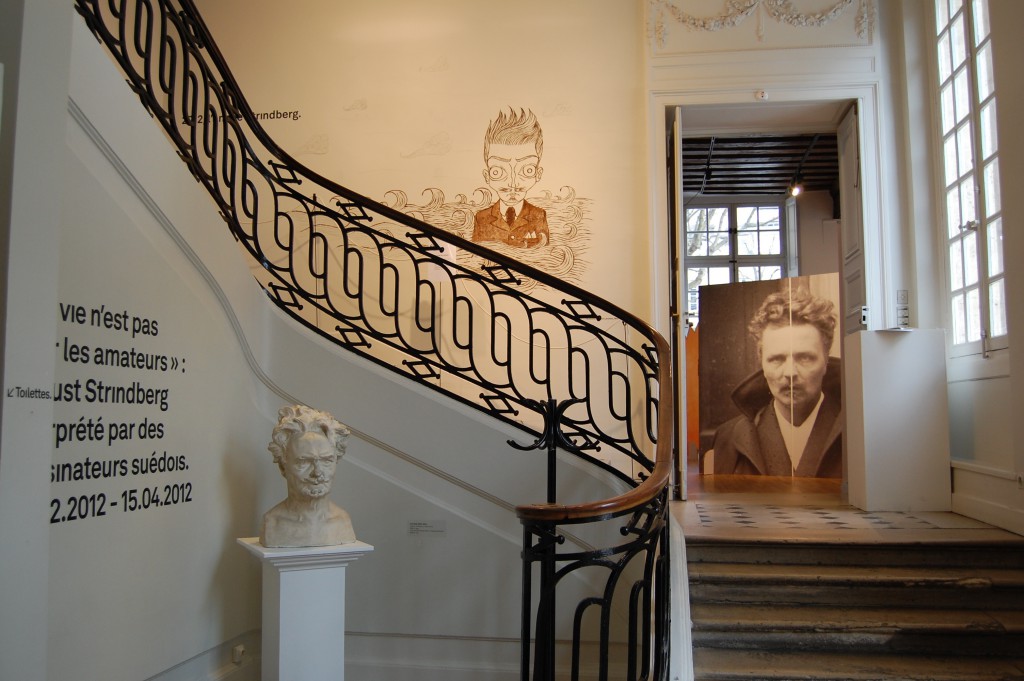 Acclaimed and hated, Strindberg's not an easy person to summarize in a few paragraphs, but there is no denying that he is an icon in Sweden. To mark the 100th anniversary of his death, Sweden's foremost practitioners of the iconically charged art of comics give us their interpretations of Strindberg. The selected coppices artists have had different approaches to the Swedish multimedia genius: some have made direct interpretations of his novels and short stories; others have placed comics with Strindberg in a contemporary context; some have scrutinized letter and relationships in Strindberg's life; others have put a satirical tinge on the author's myth, and some have interpreted his language and intentions. Overall, this gives a picture of Strindberg, maybe not like he was in flesh and blood, but more of how he remains in our minds. Via watercolor, ink, gouache, pastel, chalks, and not least a sharp eye, we get a different vision of the much spoken of, elevated, mocked, forgotten and admired Swedish writers icon, August Strindberg.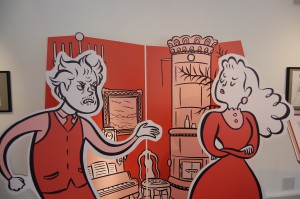 Comment: This exhibitions was created together with Josefin Svenske for the comics festival in Angouleme, with whom we had discussed an exhibition on Swedish comics for several years, but had lacked sufficient funding. The anniversary of the death of Strindberg, which was a big thing in Sweden, gave us the opportunity to get funding, and we could then let the exhibition be shown at a number of venues, including the Swedish Institute in Paris and the comics festival in Erlangen, Germany. A contender for the exhibition that has ben seen by the most visitors out of all that I have been involved in. The three language (Swedish, English and French) catalogue for this exhibition can still be ordered here.
---
Tintins arvtagare – Franska barnserier på 2000-talet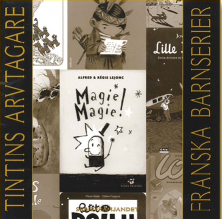 Title: The Inheritors of Tintin – French Children's Comics in the 21st Century
Venue: The Municipal Library of Malmö, Sweden (October 28/2011 to March 2012)
Official description: The French comics culture is right now in a veritable golden age. After more than a decade of uninterrupted growth, comics are publishing more extensively than ever and the breadth of what is published is truly impressive. Despite this, there are surprisingly few new French or Belgian comics published in Sweden, and even less for the young readers.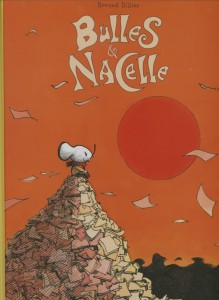 Many are probably familiar with  classic French-Belgian comics such as The Adventures of Tintin by Hergé, Asterix by Goscinny and Uderzo, Lucky Luke by Morris, The adventures of the Smurfs by  Peyo and Spirou and Fantasio by Franquin et all. These comics had their heyday in the 40s, 50s and 60s, and were published in large quantities, also in Swedish, especially in the 70s and 80s.  A lot has happened since then, but since very little of the new French children's comics have been published in Sweden, most people probably do not even know that they exist.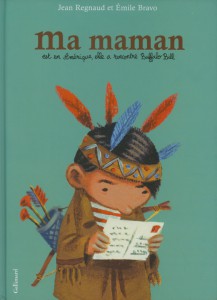 We therefore in this exhibition focus on contemporary children's comics from France/Belgium and decided to do this by showing examples of the best that the French speaking comics culture has to offer readers between eight and twelve. Ten different comics are presented with translated pages, facts about the comics and their creators and more. On display is everything from everyday stories directly linked to the reader's own reality to  escapist and wildly imaginative fantasy adventure, from the iconic and seemingly simply illustrated comics to more sophisticated, demanding picture stories.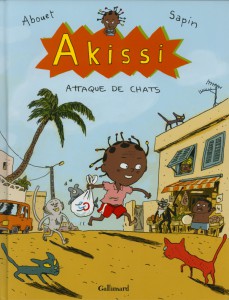 In addition to providing an insight into the French speaking comics culture of today, we hope that this little sample raises interest among comics readers, editors, publishers, teachers, librarians and journalists – and that in the future we might see more French children's comics in Sweden.
Comment: An exhibition created specifically for the children's comics festival ISV in 2013. The material was also presented in the journal Bild & Bubbla, and the catalogue (in Swedish) is still available, here. The purpose for doing all this was specifically stated in the last sentence above, and happily, since then several of the chosen comics have actually been published in Swedish and we are now seeing much more French speaking comics being translated into Swedish again. Another huge exhibition, which formed veritable a wall at the comics section of Malmö City Library, and stayed there much longer than was originally planned.
---
Världsserier – grafiska berättelser från världens alla hörn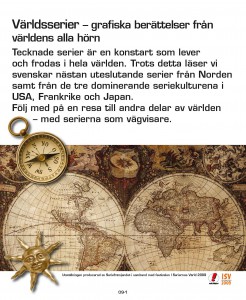 Title: World Comics – Graphic Stories from the Corners of the World
Venue: The Municipal Library of Malmö, Sweden (October 2009 to April 2010)
Official description: Comics is an art form that is alive and well in the whole of the world. Despite this, in Sweden we read  mostly comics from the other Nordic countries as well as from the three dominant comics cultures, i.e. the United States, France/Belgium and Japan. This exhibition showcases examples of comics from other parts of the world, such as Serbia, South Africa, Iceland and the United Arab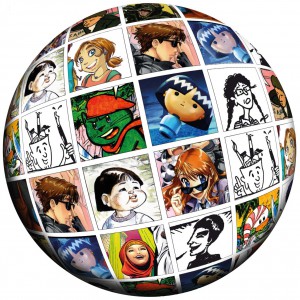 Emirates. World Comics!
Comment: Another exhibition created directly for the comics festival ISV (I Seriernas Värld – In the World of Comics), the idea being to show that comics are being made all over the world and not just in the most well known comics centres of the world. The Exhibition insisted of huge printed sheets, hung together to form a wall of comics history in the comics section of the City Library of Malmö. The exhibition was supposed to hand for three weeks, but proved so popular that it stayed for almost six months.
---
Sanningen bodde inte i honom – en bok blir till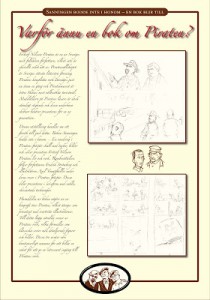 Venues: Växjö University, Sweden (2009)
The Municipal Library of Malmö, Sweden (2009)
Piratenmuseet, Vollsjö, Sweden (2008)
Official description: Fritjof  Nilsson, known as "Piraten" (The Pirate), is one of Sweden's most beloved authors, which is quite obvious: Piratensällskapet (The Society of  Piraten) is the largest literary association in Sweden, Piraten's complete works are right now being reissued, again, and Piratenmuseet (The Piraten Museum) is one of eastern Skåne's most visited tourist sites. The average age of readers of the work of Piraten, however, is constantly rising and these wonderful tales need to be presented to a new generation.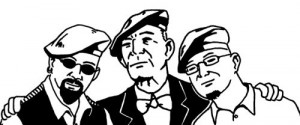 This exhibition is an attempt to do just that. The book Sanningen bodde inte i honom – an vandring i Piratens fotspår (The truth did not reside within him – a walk in the footsteps of Piraten) will in texts, images and comics present the life and work of Fritiof Nilsson Piraten. The frame story follows the author Fredrik Strömberg and the illustrator Axel Trumpfheller during their travels in the footsteps of Piraten, presented in comics form with simple, sketchy drawings. The bulk of the book consists of a biography of Piraten, which is reproduced as a prose text with black and white illustrations. Added to this are selected scenes from the work of Piraten, which are mediated in classic comics form with detailed characters and images. These three levels are continuously woven together to form a unit to provide an interesting entrance into the life and work of  Piraten.
Comment: An ex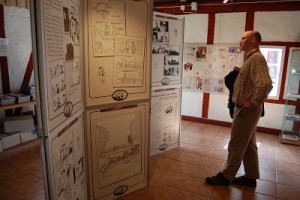 hibition created at the same time as we were making the book that is the theme. The book was sadly was never finished. Considering all the interest that was generated and all the efforts that were invested, that is really a shame, but what with all other projects I've got going, I really don't see us going back to this in the foreseeable future.
Press: 
Skrönor blir fakta (Expressen, Sweden, Februari 2/2009)
Nu blir Piraten seriefigur (Ystads Allehanda, June 20/2008)
---
Öst möter Väst! – Manga och tecknade serier

Title: East Meets West! – Manga and Comics
Venue: The Municipal Library of Malmö, Sweden (2007)
Official description: Asian popular culture has made its foray into the Western world, through manga, anime, J-pop, cosplay more. However, this is only the latest in a long line of cultural exchanges between East and West. East meets Öst möter Väst – Manga och tecknade serier is an exhibition that highlights these cultural cross-fertilization.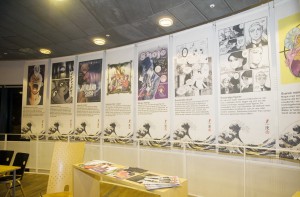 Comment: The first of several  exhibitions that I was involved in creating directly for the comics festival ISV (I Seriernas Värld – In the World of Comics), consisting of huge hanging printed banners.
Press:
Mangamästare minglade på mässa (Sydsvenska Dagbladet, Sweden, November 10, 2007)
Manga lockar många i Malmö (Kristianstadsbladet, Sweden, November 9, 2007)
---
Duckomenta Malmö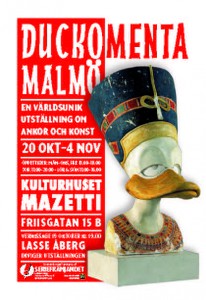 Venue: The Culture House Mazetti, Malmö, Sweden (October 19–November 4/2006)
Official description: The Swedish Comics Association proudly presents, for the first time in Scandinavia: Duckomenta in Malmo. The exhibition brings together selected works by the German artist group Interducks, which since 1982 has created innumerable pastiches of famous works of art seen from a disney-duck perspektiv. Through their interpretations of works from Egyptian sculptures to contemporary art, executed with great skill and knowledge of the materials and techniques of the originals, Inter Ducks challenge the boundaries between "fine" and the popular arts. The Swedish Comics Association therefore invite you to the opening and panel discussion on the theme of art and popular culture. Bring a twinkle in the eye and let Inter Ducks guide you on an alternative journey through the unduckumented history of humanity.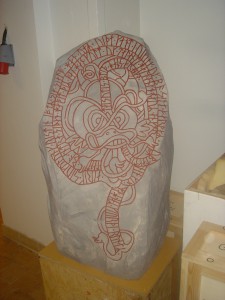 Comment: This was an incredibly fun exhibition to curate. We got access to all the art that Interducks group had produced and got to choose all the ones we liked the most, to put together what was supposed to look like an old school art exhibition, from stone age carvings art to modern day art. We also had famous historians giving mock talks to the press about the new piece produced, a viking age stone with duck carvings, supposedly found in America, showing where the Disney ducks all come from, panel discussions etc.
Press:
Världsunik utställning om ankor i konsten (Skånska Dagbladet, Sweden, October 20/2006)
Historiens vingslag á la konstakademin (Kvällsposten, Sweden, October 19/2006)
En ankrevolution i konsten (Skånska Dagbladet, Sweden, October 19/2006)
Klassiska ankor (Kalle Anka & C:0 #43/2006, Sweden)
---
Seriernas magiska tidsmaskin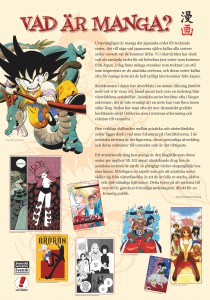 Title: The Magic Time Machine of Comics
Venues: Uppcon, Uppsala, Sweden (2007)
Landskrona museum, Sweden (January 1 to March 11/  2006)
Official description: Swedish comics history is a breakneck adventure, jam-packed with surprises and unexpected twists – from the erotic snapshots of Johan Tobias Sergel in the 1700s to today's Swedish manga art with Åsa Ekström, a Swedish comics artist who has established herself in Japan.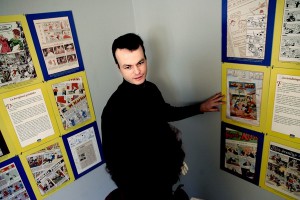 The Swedish Comics Association showcases a historical overview, with originals by known Swedish cartoonist and rarities from the Swedish Comics Archive.
Comment: An early exhibition, for which I only contributed some of the texts and images.
---
Manga! – De japanska seriernas intåg

Title: Manga! – the Emergence of Japanese Comics
Venues: The Municipal Library, Helsingborg, Sweden (2006)
The Municipal Library, Helsingborg, Sweden (2005)
The Culture House Mazetti, Malmö, Sweden (2005)
Official description: In recent years, Japanese comics have been a big hit in Sweden and the rest of the Western world. Since manga was introduced on the Swedish market a few years ago, interest in Japanese comics have increased exponentially. Today there are over twenty different manga titles published in Sweden and publishers continues to add more to the list.
The range of Japanese comics  is infinitely greater than ours, with comics for all ages and special interests. There is no subject that is too strange to make a manga about. For example, the poetic comics, or comics specifically for senior citizens. It is also not uncommon for large companies to make their annual reports to employees in the form of a long comic.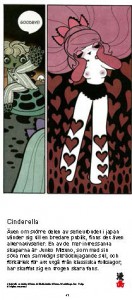 The wide-eyed, cute style that many today mainly associate with manga was originally introduced by master cartoonist Osamu Tezuka, who in turn drew much inspiration from early Disney and Fleischer films. There is absolutely no requirement that Japanese comics have to look this way, though, as drawing styles vary depending on  genre and author.
One of the most fascinating things with manga among Swedish readers, is that many of them become inspired to make their own comics. Around the country there are a number of associations, clubs, workshops, courses and other gatherings where young people meet to discuss and draw manga.
Japanese comics are here to stay, and with this exhibition we wish them a warm welcome!
Comment: This was a massive exhibition, consisting of  huge printed banners hanging form the ceiling, telling the story of the at the time new phenomenon of Japanese comics in Sweden. The exhibition was part of the comics festival ISV (I Seriernas Värld – In the World of Comics).
---
Serier.nu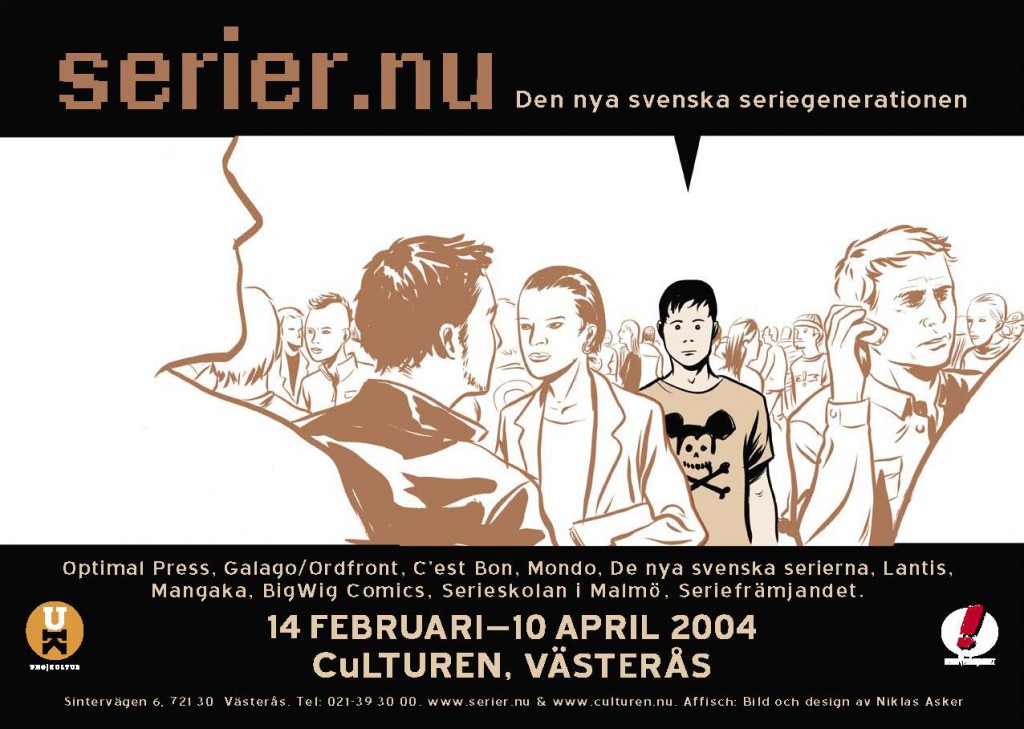 Title: Comics.now
Venue: Culturen, Västerås, Sweden (Februari 14–April 10/2004)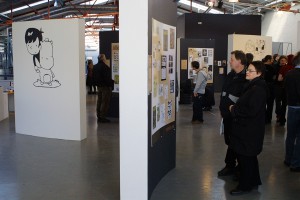 Official description: Making comics has never been as popular in Sweden as right now. More and more people discover the joy of putting pen to paper and telling stories with words and pictures. This is partly because comics have become an accepted part of our culture. Basically, however, it is about the unstoppable desire to create; the fact that so many people themselves want to create comics.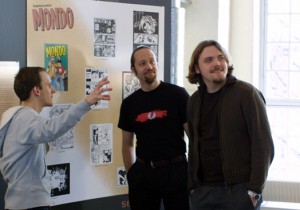 The exhibition »serier.nu« is an attempt to capture the creativity and showcase what's happening right now. The focus is on the forum for the publication of  new Swedish comics. Drawing comics is one thing, but the big question is what happens then. When creating comics you want to communicate and reach an audience, but this isn't always easy.
The main part of the exhibition presents eight different forums for the new voices of Swedish comics culture. Here you will find everything from established comic books like Galago to the latest online magazine, from pure art to a more commercial focus. This exhibition wants to present possible paths to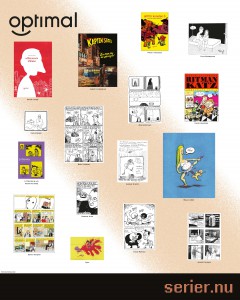 take for all those who want to reach an audience with their comics.
You can also see the exhibition as a gauge of where we stand today, and a pointer as to where we are headed. Looking at it this way, it is clear that we have a promising future.
Comment: This was my very first major comics exhibition, which was commissioned by the exhibition hall Culturen in Västerås. Making it was a bit of an adventure, putting together all the major forces creating the new wave of comics in Sweden at the time. There was also a catalogue produced, which can be viewed here.